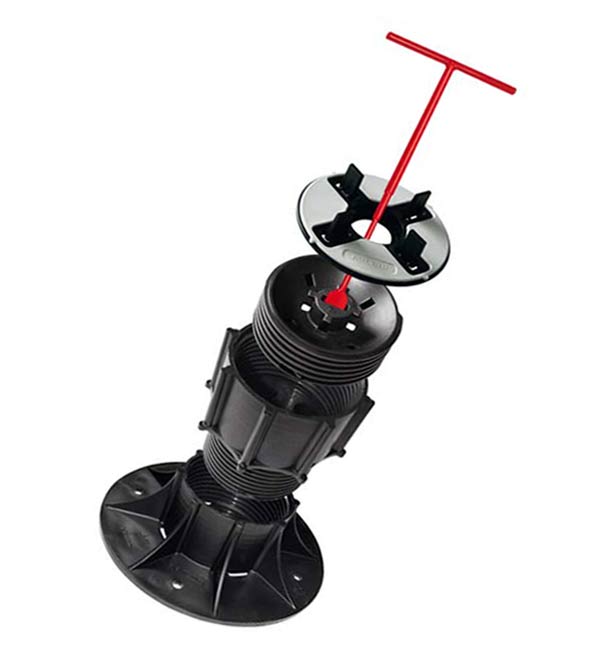 SE Series Pedestals
Self-leveling adjustable deck supports with bicomponent heads
There's now an easier and much more efficient way to build perfectly level elevated decks on rooftops, terraces, plazas or patios. Eterno SE adjustable height pedestals from Archatrak have been engineered specifically to save installation time, simplify construction and guarantee a safe, sturdy support structure for any elevated deck, whether residential or commercial.
The SE adjustable pedestal from Archatrak is a fully integrated paver support incorporating a wide circular base, a screwed central column giving precise incremental height adjustment at the turn of the screw, and a wide bi-material head.  The special head incorporates a layer of rubber to provide shock protection and sound absorption, inbuilt spacer tabs plus a unique ball and socket design which provides automatic slope compensation adjustment up to 5%.
So there's no need to cut sections of PVC pipe to precisely the right length, no need to waste time checking or calculating the slopes on your substrate, no need to buy extra components for slope compensation, position them correctly, rotate concentric discs and match up indicator marks, no need to add extra rubber shims or to painstakingly insert up to four spacer tabs in each head. And perhaps best of all, after you have laid your deck and you find the need to make some slight adjustments, you don't have to tediously pull up a batch of tiles risking damage to the tiles, screw the pedestal up or down, insert shims or recut a length of PVC pipe.  You simply insert the special height adjustment tool into the pedestal head in the gap where the 4 tiles meet and screw the adjustable pedestal up or down. It's that easy.
The SE pedestals can be used with practically any structural paving product. As well as porcelain pavers, concrete pavers and stone pavers which are supported only at each corner of the pavers or tiles, you can also build a traditional wood or composite wood plank deck by screwing wood bearers to a special supporting bracket on the pedestal head and fixing the decking planks to the bearers in the traditional manner.
No matter what the application, these screw-to-adjust pedestals guarantee a perfectly level decking surface, enabling you to build safe, sturdy and stunning looking raised outdoor flooring over flat roofs, cracked concrete patios, terraces, plazas, raised water features, around swimming pools and much more.
Eterno SE adjustable deck supports are without doubt, one of the most time saving and trouble free deck support systems for installing pedestal mounted pavers.
Benefits of the Eterno SE Series Adjustable Deck Supports
Capability of supporting loads of over 2000lbs.

Self adjusting heads automatically compensate for sloping substrates up to 5%

Screwed columns enable continuous incremental height adjustment from approx. 1 1/2″ to over 21″

Safety stops prevent pedestal components from being unscrewed beyond their safe working limit

Bi-material heads with soft rubber surface provide superior sound deadening and shock protection

Inbuilt spacer tabs save time and effort of inserting multiple tabs into every pedestal head

Scored lines on the pedestal base provide an easy guide when cutting pedestals to fit flush against wall

Lightweight but strong and durable polypropylene construction

Wide circular base ensures even load distribution and avoids damage to waterproof membranes

Special height adjustment tool enables paver height to be adjusted from above even after installation is complete
Eterno SE Series Adjustable Pedestal Components
SE0 to SE5  (1.125″ to 8.5″) – the pedestals consist of a circular base component, a threaded central column and a self-leveling head
SE6 to SE16 (8.5″ to 21.75″) – screwed extension elements are inserted between the central column and base component
Below 1.125″,  stackable fixed height rubber support pads  are normally used to build up heights incrementally using rubber shims to make minor height adjustments.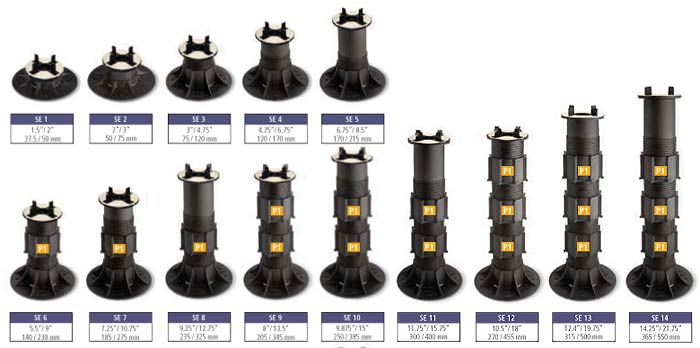 Additional data and specifications of the Eterno SE series adjustable pedestals including a complete catalog can be downloaded from our Brochures page.