NM Series Pedestals
Adjustable paving supports with fixed heads & slope compensation shims
The Eterno NM range of deck supports from Archatrak is the very definition of strength and reliability. With their extra wide base, large diameter central screwed column and wide fixed head, NM pedestals are designed to support the heaviest of pavers up to elevations of 36″ without damaging any waterproof membranes.
Featuring a cost saving fixed head rather than the self leveling head on the SE range of pedestals, the NM range incorporates all the classic Eterno features that make these pedestals the most time saving and trouble free pedestals for building elevated decks – anti-slip, noise deadening and shock reducing rubber heads, inbuilt spacer tabs, ability to make micro height adjustments even after installation and strong, UV resistant, polypropylene components.
When installed on sloping surfaces, shims are placed on the pedestal head to ensure a level support surface, each shim providing slope compensation of 1%.
Suited for any elevated paving application, either laid over sloping ground, on on rooftop decks, terraces, balconies or patios and using either porcelain pavers, concrete pavers or structural wood deck tiles, the NM 'Maxi' Series is an elegant, cost effective solution for all your elevated deck support needs.
Benefits of the Eterno NM Pedestal System
Just five pedestals cover the height range from 1.125″ to 11″
Adding screwed extension elements can achieve deck elevations up to 39″
Extra wide 4 1/2″ diam. column and 6″ diam. fixed head ensures excellent stability, particularly at higher deck elevations
Screwed columns allow continuous incremental adjustment of height
Extra high load bearing capacity – central compression load limit resistance exceeds 6000lbf
Inbuilt lugs on extension elements enable guy wires to be used for stabilization at higher elevations
Bi-material head provides superior sound deadening and shock protection
Stackable shims placed on pedestals heads provide slope adjustment from 1% to 4%
Height adjustment tool enables adjustments to be made even after all pavers are laid
Wide circular base ensures even load distribution and avoids damage to waterproof membranes
Components of the Eterno NM Pedestal System
1.125″ to 10.825″ (NM1 to NM5) – the deck supports consist of a circular base component, and a threaded central column.
7.875″ to 39″ –  extension elements are inserted between the central column and base components, each element enabling a height increase of 4 1/4″.
For heights below 1.125″,  stackable fixed height rubber support pads  are normally used to build up heights incrementally with shims are used to make minor height adjustments.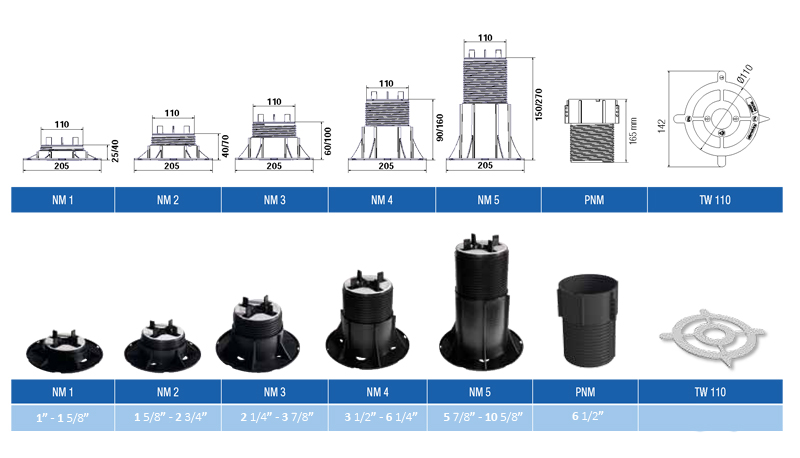 Twist Slope Compensator
The TW150 Twist slope compensator enables slope compensation from 0% up to 1% with just a simple turn. Compensators can be stacked  on top of each other to provide additional compensation of 2% or more.

A comprehensive catalog for the Eterno series of pedestals which includes full details of the NM series can be downloaded from our Brochures page.