Ipe Wood Tiles
Solid wood modular decking tiles for pedestal supported rooftop decks
The quickest and easiest way to build a solid wood deck on a rooftop is undoubtedly to use Ipe wood modular decking tiles in conjunction with a pedestal system. There's no need to build complicated structures for deck foundations, no need to hire cranes or other lifting devices to bring materials on site, no need to worry about damage to waterproofing and no problems in disposing of excess building materials. Plus there's very significant time-saving in construction.
With a deck tile and pedestal system, you just lay out the pedestals over the area you wish to cover, placed at approx. 24" centers in a grid pattern and lay  the modular decking tiles on top of the pedestals, screwing the central column of the pedestals up or down as required to create a perfectly level surface. It's really that simple.
Archatrak supplies 24" x 24" modular decking tiles in Ipe wood as a stock item with 48" x 24" tiles available on special order if required. The Ipe wood used on our tiles is sourced from Bolivia under government forestry management practices.
The tiles are manufactured with a slot cut into each corner. In locations subject to high winds, a special screw and washer assembly can be used to hold down the edges of the tiles onto the pedestal head more securely.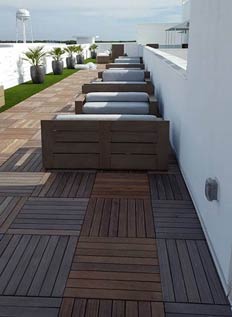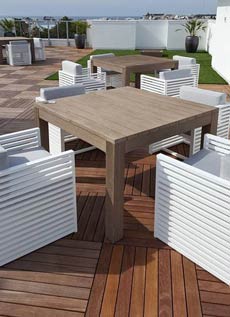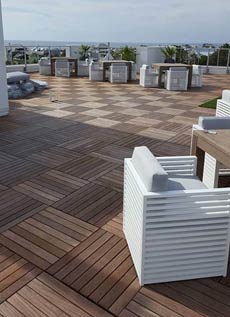 For more information on using Ipe deck tiles for pedestal supported decks, call us on 866 206 8316 or send us an email.