Pedestal Support Systems
Deck support systems for building elevated decks
Roof Deck Supports
Adjustable deck supports offer the most efficient and cost effective method of constructing raised decks on rooftops, roof terraces or other sloping surfaces where you want to create a perfectly level deck surface. Pedestal support systems save considerable time and expense compared with building decks using traditional deck foundation structures of bearers are sleepers, which can be particularly important for decks on rooftops in existing high-rise buildings. Even where you may wish to install a traditional wood plank deck, you can still use a pedestal decking system by attaching the bearers for your deck to the pedestal array. This has distinct advantages in locations where you may not be permitted to place any 'permanent' structures on a rooftop due to concerns about damaging waterproof membranes.
The most common application for pedestal support systems is for roof deck supports in the construction of elevated decks on rooftops using slab pavers, either porcelain or concrete where the pavers are supported only on each of the four corners. Depending on the size of the paver, the weight loading and intended application, additional deck pedestals may be required in the middle of a paver or midway along the edge.
Typically, adjustable pedestals will have a minimum height of around 1 ½" but may extend to 36" inches or more in elevation. At the very lowest levels below 1 ½", it is normal to use stackable fixed height support pads, in combination with shims as required for small adjustments.
Eterno Pedestal Support System
Archatrak exclusively supplies the Eterno range of pedestal supports. Eterno screwjack style pedestals are one of the most innovative decking support systems available incorporating a range of unique features that offer superior performance, time saving installation, better sound absorption and ease of post-installation height adjustment. Archatrak supplies two models of Eterno roof pedestal systems – the SE Series and NM 'Maxi' Series.   So what's the difference?
SE Series
incorporates exclusive self leveling heads which automatically provide slope compensation up to 5%
bi-component heads offer superior sound absorption and shock resistance
inbuilt spacer tabs save installation time
designed for quick and easy installation especially on substrates with variable slope
ideal for deck elevations up to 21.75″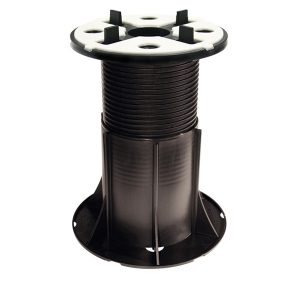 NM 'Maxi' Series
fixed head design with add on shims providing slope compensation
bi-component heads offer superior sound absorption and shock resistance
inbuilt spacer tabs saves installation time
best roof pedestal option for higher deck elevations due to extra wide  (4 1/2″ diam.) screwed columns and sturdy extension elements
can be used for deck elevations up to 39″
lower cost – up to 22% lower in cost than SE Series
only 4 pedestals cover the range 1.125″ to 6.5″ c.f. 5 pedestals for SE Series
Both series of adjustable decking supports feature wide 6″ diam. heads with soft rubber inserts, wide, flat 8″ diam. bases with scored lines to aid in cutting and the ability to make minor height adjustments even after installation, using the special height adjustment tool.
As well as the Eterno roof deck support system, Archatrak supplies a comprehensive range of porcelain pavers and Ipe wood tiles, offering the benefit of fully integrated decking systems for any raised rooftop deck or roof paver project, ranging from high end residential roof decks to commercial high traffic plazas and water features.
For further information on the Eterno range of decking supports including pricing and availability, or if you have any questions about roof pedestal systems in general, just give us a call on 866 206 8316 or send us an e-mail.