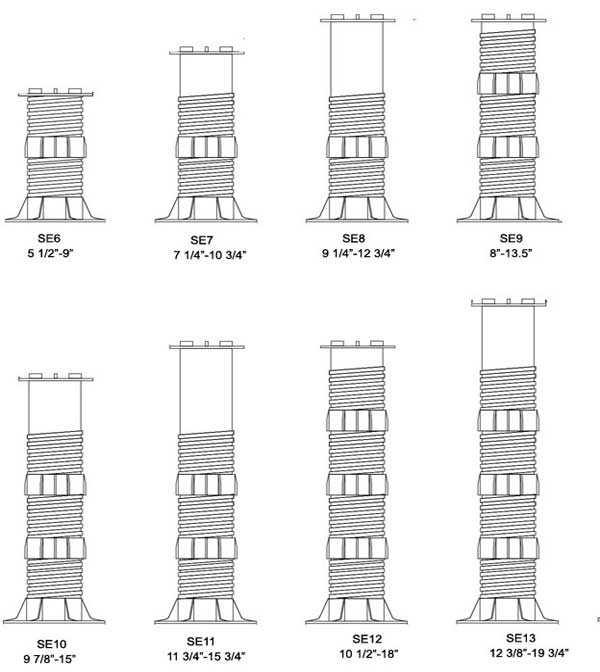 Pedestal Return Conditions
Archatrak conditions on return of excess pedestals
We know it's difficult to precisely estimate not only the heights of pedestals required for a particular job, but also their number. Nevertheless, you and and/or your contractor are solely responsible for verifying that measurements of all dimensions and elevations of your project are accurate, and that the quantities and sizes of pedestal and pavers meet the requirements of your project. We cannot accept liability or responsibility for any claims arising from or relating to quantities, sizes and types of pedestals, pavers or tiles or accessories which may have been estimated by us in any quotation or sales order.
We accept that because of the uncertainty in estimating pedestal requirements, you may wish to order excess pedestals for specific jobs. Consequently we are happy to accept the return of excess pedestals ordered, and provide a credit or refund on pedestals returned, subject to the following conditions.
Pedestals must be returned within 90 days of receipt unless otherwise agreed by Archatrak.
The quantity of each item to be returned must be confirmed with Archatrak before dispatch. Archatrak will then confirm the address of the warehouse to which the return is to be made.
An RMA (return merchandise authorization) will be issued by Archatrak specifying the product name(s) of items being returned and the quantities of each item. This RMA must be enclosed with the return shipment.
All returned products must be received in a clean, as new condition suitable for resale, with no scratches, marks, soil, damage or missing components.
Products must be returned in separate boxes or bags for each product item (SE1, SE2 etc) with each box/bag clearly marked with the product item name and quantity. A master carton may be used to enclose boxes/bags containing individual product items. Returned products need not be shipped back in original cartons if other suitable cartons are available.
Where a set of components (e.g. head, coupler and base) make up a specific item (Se1, SE2 etc) as originally ordered, each box/bag of returned products must contain the appropriate numbers of components to make the complete pedestal sets.
We cannot accept the return of individual columns or base components of a pedestal but you may return E1 or PNM Extension Elements and SE or NM pedestal heads which maybe returned as individual items.
Subject to receiving returned items in the condition as described above, and after checking by warehouse staff, Archatrak will pay a refund (or issue a credit) based on the original invoiced price of the products returned, less:
A 10% restocking fee.
The pro rata cost of the original shipping (only if goods were supplied at a unit price which included shipping).
Any charges paid by Archatrak for return shipping. (If Archatrak is requested to arrange return shipping, the charge deducted from the refund will be the actual return shipping cost +10%).
If items are not returned in the condition specified above, Archatrak reserves the right to apply an additional discount to the refund/credit reflecting any extra warehouse labor or material costs which may be incurred.